Paylib
Paylib
1. Introduction
Paylib is a French e-wallet that contains cards supported by Carte Bancaire in France.
A customer can pay with Paylib in two ways:
via the Paylib mobile app
via an SMS code
As no card details are required, the customer does not need to have his card at hand or have to pass sensitive card details.
Paylib is supported by the following acquiring banks in France:
BNP Paribas
Société Générale
La Banque Postale
Paylib via Worldline must be used with our Gehostete Zahlungsseite hosted payment page solution. Only minimal integration is required.
2. Activation and configuration
In order to add Paylib, you need to have at least one credit or debit card (supported by Carte Bancaire in France) activated in your Worldline account. The acquirer of this card needs to be one of the acquirers supported by Paylib at Worldline.
Once you've added the payment method accordingly, you can request the enrollment of the payment method. The enrollment request will be sent to unsere Kundendienst team, which will complete the rest of the activation.
In our test environment the activation process is similar, with the exception that a sandbox environment of Paylib is used and there's no acquirer connection.
3. Integration with Gehostete Zahlungsseite
If you let your customers choose their preferred payment method directly on our e-commerce hosted payment page (as opposed to a selection page of your own), no further integration is required; the payment method (once activated) will be visible on the payment page.
In the event you've created a payment method selection page of your own, by which your customers are redirected from your page directly to the payment page with the payment method preselected, you're making use of the PM and BRAND parameters.
To call the Paylib payment page directly, the following PM and BRAND values must be used:
| Parameter | Value |
| --- | --- |
| PM | Paylib |
| BRAND | Paylib |
The same values are returned in the redirection and post-sale feedback.
4. Testing
Once you've activated Paylib in your test account, you can perform tests between the Worldline and the Paylib platform.
Testing Paylib however is focussed mainly on testing the various possibilities on the Paylib platform. As there's no connection with any acquirer, it's not possible to make any authorisations or captures; A transaction will always be refused.
Below are all the tests that are possible with Paylib, using login en password:
Login
Password
Description
sb.visa.ok@paylib.fr
P@ssword1!
Successful authentication and VISA card details available.
sb.mc.ok@paylib.fr
P@ssword1!
Successful authentication and MasterCard card details available.
sb.multi.ok@paylib.fr
P@ssword1!
Successful authentication and choice of cards: 1 VISA and 1 MasterCard.
sb.multi.ok.sms@paylib.fr
P@ssword1!
Successful authentication and choice of cards: 1 VISA and 1 MasterCard.
Hard authentication required: OTP SMS (One-Time password).
SMS not available in TEST, '123456' to be used.
sb.ko@paylib.fr
P@ssword1!
Refused authentication.
sb.multi.ok.nocard@paylib.fr
P@ssword1!
Successful authentication and no cards available.
sb.multi.ok.te@paylib.fr
P@ssword1!
Successful authentication and choice of cards: 1 VISA and 1 MasterCard, but will result in a technical error.
sb.multi.ok.badtoken@paylib.fr
P@ssword1!
Successful authentication, but invalid token when getting card details.
5. Reporting
5.1 Online
As Paylib only acts as a container for the actual cards, at the beginning of a transaction the payment method will be "Paylib" but later change to "Visa", "Mastercard", etc., once the card data is collected. Nevertheless, a "Wallet" field is also available and will contain the "Paylib" value.
Via "View transactions" in your Worldline account, your Paylib transactions would look like this (click image to enlarge):

Note that the transaction in status 0, in which case no card details have been collected, still shows "Paylib" as the payment method, whereas for the declined transaction a Visa card was used. For both transactions the Wallet column shows "Paylib".
5.2 Download
In the files that you download via "View transactions" and/or "Financial history", the "METHOD" and "BRAND" columns show the values of the payment method that the customer used. In case of Paylib, these values will be no different than those of normal credit card transactions.
Therefore, in order to distinguish which credit card transactions were actually initiated with Paylib, you can add an extra field/column to your reports: "TO_WALLET". To have this field added, go to "Operations" > "Electronic reporting" and under the "Dynamic" structure" add the "[TO_WALLET]" field to the "Optional fields":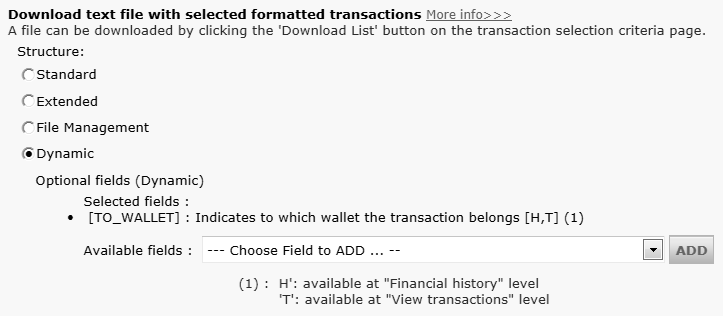 6. Transaction maintenance
Paylib is only applied as such in the beginning of a transaction. Once the card details have been processed, the payment method changes to the card brand used (e.g. Visa or MasterCard). As from that point, Paylib will only be used as the wallet indicator.
Consequently, all usual maintenance operations for credit cards also apply here.
Häufig gestellte Fragen


Wie lange die Aktivierung einer Zahlungsmethode dauert, hängt von den folgenden Faktoren ab:

- In der Regel dauert es etwa eine Woche, bis der Acquirer bzw. die Bank Ihren Vertrag bearbeitet hat. Wenn Sie bereits einen Vertrag haben, dauert die Aktivierung ein paar Tage.

- Bei bestimmten Zahlungsmethoden sind zusätzliche Kontrollen erforderlich, bevor sie aktiviert werden können, z. B. im Fall von 3-D Secure, das direkt bei VISA oder MasterCard (und nicht beim Acquirer) beantragt wird.




Mit Worldline Collect können Sie mehrere Zahlungsmethoden in einem Schritt aktivieren.
Ein Akzeptanzpartner ist ein Finanzinstitut, das Zahlungen mit bestimmten Kredit- und Debitkarten verarbeitet. Der Akzeptanzpartner ist für den finanziellen Teil der Transaktionsabwicklung verantwortlich, Ingenico ePayments für den technischen Teil. Mit anderen Worten: Ohne einen Akzeptanzpartner wird das Geld nicht auf Ihr Bankkonto überwiesen.
Für jede Online-Zahlungsmethode, die Sie hinzufügen möchten, brauchen Sie einen Akzeptanzvertrag mit einem Akzeptanzpartner. Falls Sie sich darüber beraten lassen möchten, welcher Akzeptanzpartner für Sie und Ihre Region am besten geeignet ist, wenden Sie sich unter sales.ecom@ingenico.com bitte an unser Vertriebsteam. Wenn Sie wissen, mit welchem Akzeptanzpartner Sie arbeiten möchten, können Sie ihn einfach aus der Dropdown-Liste auswählen, wenn Sie eine Zahlungsmethode in Ihrem Konto hinzufügen.
Aber warum lassen Sie uns das nicht für Sie erledigen? Mit
Ingenico Full Service
können Sie zahlreiche inländische Zahlungsmethoden auf einmal und in mehreren Ländern mit einem einzigen Vertrag aktivieren. Wenn Sie international handeln, ist dies eine ideale Möglichkeit, um Zahlungen aus ganz Europa anzunehmen. Dies erspart Ihnen zeitraubende Verwaltungsarbeit, und da Sie mehr Zahlungsmethoden anbieten können, können Sie auch Ihren Umsatz steigern.
Hier
erfahren Sie mehr über Ingenico Full Service. Für Informationen über Verträge wenden Sie sich bitte per E-Mail an
sales.ecom@ingenico.com
.
Manchmal kommt es vor, dass eine Vertragsnummer auf der Seite des Akzeptanzpartners auf inaktiv gesetzt wurde. Wir empfehlen Ihnen, dass Sie sich diesbezüglich an Ihren Akzeptanzpartner wenden.